By Jennifer Lyn Walker, The Cybersecurity Evangelist
In this no frills, no fanfare, solo, and sometimes painful episode of TCE, I literally prattled on about patching on this day after "Patch Tuesday." I focused on the importance for all, along with a warning to be wary of overhyping. I encouraged listeners to turn on automatic updates on their personal devices and urged organizations to support their teams with greater resources so patches stop getting deferred. I touched on the recent Apple update and gave a few examples of some of the problems we run into when we defer patches for weeks, months, or even years.
Thanks for listening to me get patching off my chest in this solo episode of the TCE podcast, party of one.
Using one of the most oft used images out there, Twitter user Joseph Stephens, @JoeS_Cyber, posted this (image below) on 14 Sep, somewhat speaking to some of Jen's points in her podcast.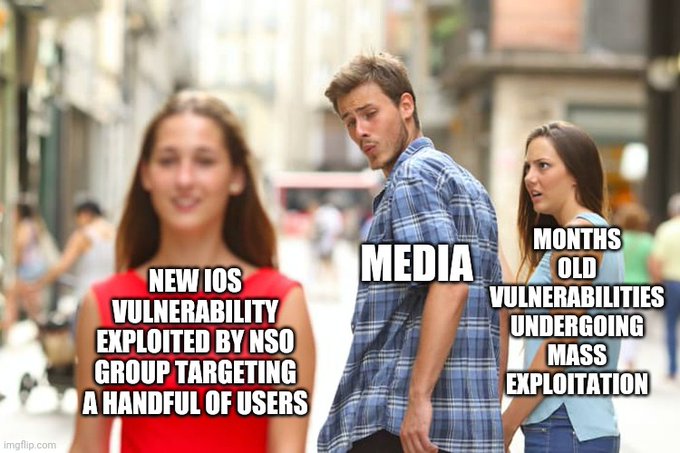 You can enjoy other Gate 15 Podcasts on Anchor, Apple, Spotify, Google, as well as other locations accessible from the Anchor link. The full podcast menu includes:
The Risk Roundtable, a panel discussion among our Gate 15 team
The Cybersecurity Evangelist, with Jennifer Lyn Walker
Nerd Out! Security Panel Discussion, moderated by Dave Pounder
The Gate 15 Interview, a monthly interview with security and risk management leaders
Subscribe, listen, and share your ideas and feedback! You can also reach out to us on Twitter, LinkedIn or via email at: podcast@gate15.global.